Each summer, New College Institute hosts educational camps for local middle school students that are designed to maintain their enthusiasm for learning during the months away from their school classrooms.
These popular camps regularly "sell out" with camp sizes limited to allow for specialized attention from instructors for participants.
"We had no idea what to expect for the technology camp, and our expectations were truly exceeded! It was very evident that a lot of time and planning was put into organizing the daily activities. My child was very eager to arrive at camp each day and spoke about each daily activity. She even commented that the program should be two weeks long!"
– Valerie, mother of technology camp participant
2022 SUMMER CAMP PROGRAMS
August 9, 2022 | 10 AM – 3 PM
Wake Tech Community College, Morrisville, NC
This in-person only event is for high school females+ traveling from the greater Martinsville, VA to RTP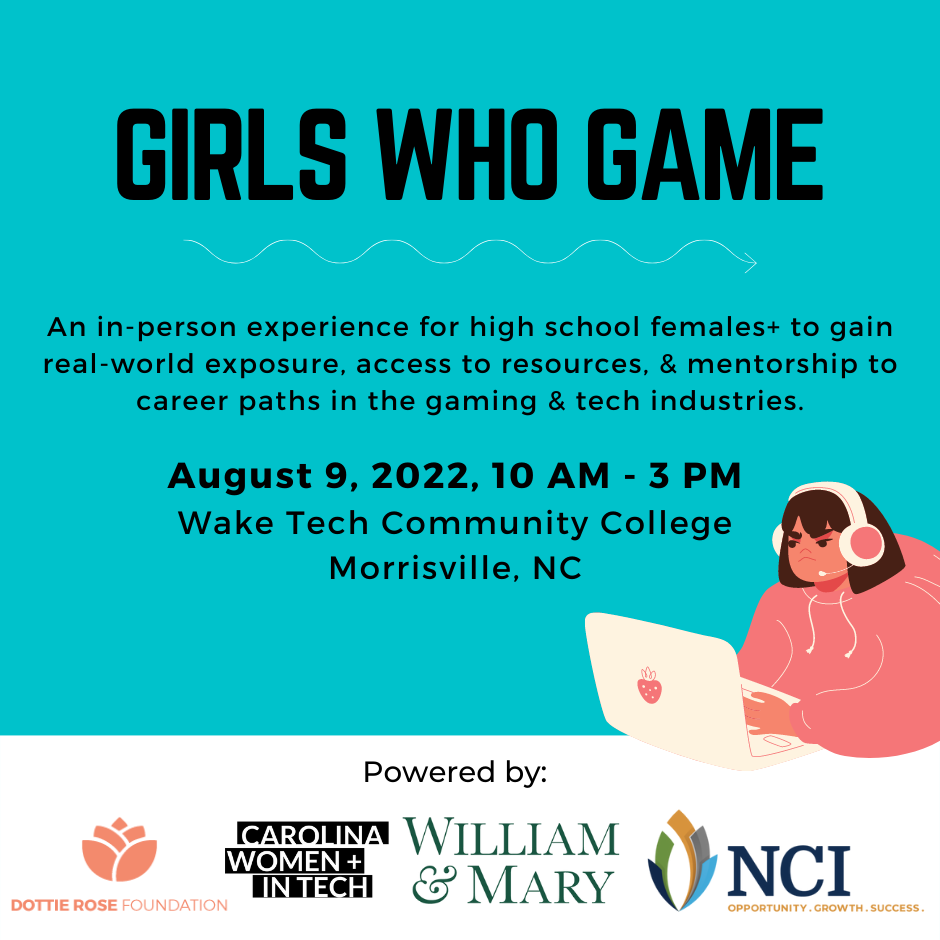 Event Details
Are you a high schooler from the greater Martinsville, VA who likes to game? Are you interested in learning more about a career in the gaming industry?
Join us for a day of learning and fun as students travel to the Raleigh Triangle area to meet and interact with professionals and educators in the gaming/tech industry.
This event is powered by the Dottie Rose Foundation, Carolina Women+ in Tech, College of William & Mary, and New College Institute. There is no fee to attend however you must be a high school student from the greater Martinsville, VA with permission from your parent/guardian to travel and attend the field trip for the day.
What to Expect
High school students will have a full day experience to gain real-world exposure, access to resources, and mentorships to career paths in the gaming and tech industries.
Attendees will have the opportunity to meet and have conversations with industry experts. Students will be able to play and code inside of one of the top gaming platforms.
Transportation and lunch are provided by New College Institute.
Safety Details
1.       Prior to finalizing registration, a signed permission form will be emailed to the registration email for parents/guardians to give permission to attend the event and need to be provided to the event team. A follow-up email will be sent with day-of logistics and other safety information prior to the event.
2.       Medical information for allergies/medication/medical issues will be provided to the event team.
3.       A chaperone contact list of phone numbers will be provided to parents/guardians prior to the event.
Event Schedule
7:00 AM | Students arrive at designated transportation location
7:30 AM – 9:30 AM | Students depart from the greater Martinsville, VA

10:00 AM – 10:30 AM | Welcome

10:30 AM – 11:30 AM | Panel with Industry Professionals & Tech Educators

11:30 AM – 12:30 PM | Lunch

12:30 PM – 1:30 PM | The Real Metaverse Interactive Session

1:30 PM – 1:45 PM | Break

1:45 PM – 3:00 PM | Game Development Activity

3:00 PM | Departure
Questions?
If you have questions about this field trip, are interested in volunteering, speaking/mentoring at the event, or want to get involved, please email Dr. Sharon Jones.
Click HERE for more information and to register.